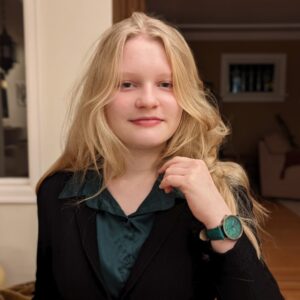 Erin
Walshaw
Contributor
Vancouver, Canada
Erin
Walshaw
Contributor
Vancouver, Canada
Born in 2006, Erin Walshaw comes from a Canadian immigrant family originally from South Africa. She follows local and international politics on human rights, climate change, and inequalities. She plans to study within the STEM field while pursuing self-education in writing.
Erin is currently a co-president of her school's student council and previously served as the Grade 11 Representative. She enjoys Math, Science, Humanities, and Applied Skills courses. Outside of school, she tutors other students, trains in karate, and studies French.
She is currently developing a workshop to educate young students about influential women in STEM through presentations, experiments, and interactive demonstrations.
Erin joined Harbingers' Magazine in the autumn of 2023 after she won the 2nd prize in Reporting in The Harbinger Prize 2023.