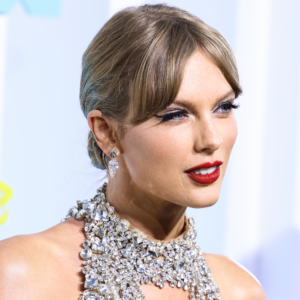 Taylor Swift's Eras Tour breaks all records. The phenomenon of the star explained
14 year-old Sofia Vorobei on the origins of America's superstar
Taylor Swift's The Eras Tour is inspired by her musical journey. Launched after the Midnights album of 2022, the tour showcases 44 songs divided into 10 acts, and critics praise the concept and production.
It's Swift's most extensive tour ever: it comprises 146 concerts on five continents and 20 months: it started on March 17, 2023, and is planned to last until November 23, 2024.
The tour's impact extends beyond music. According to Bloomberg's estimates, the show racked up $700 million in ticket sales, making the 33-year-old artist a billionaire. The show affects economics, culture, politics, and even resulted in legal regulations being altered: according to Quartz, Swift's tour led to the simplification of touring regulations in Indonesia.
The tour became so big that on October 13, 2023, Taylor Swift released a concert film, 'Taylor Swift: The Eras Tour' – which, unsurprisingly, broke box office records and on its first day of pre-sales, tracked in an astonishing $26 million in ticket revenue.
All of that invites a question: who is this 33 year-old American, who has been dictating terms in the music industry?
Taylor Alison Swift was born on December 13, 1989 in West Reading, Pennsylvania, United States.
She emerged as a musical prodigy from a young age – she picked her first guitar at just 12 and, by the age of 14, had signed her first music publishing deal. As a teenager, she was commuting to Nashville to pursue her dreams of becoming a musician.
Taylor's parents, Scott and Andrea Swift, none of whom had a connection to the music industry, recognized her potential and were unwavering in their encouragement – they encouraged her passion for music, took her to local gigs, and even drove her to Nashville to distribute demo tapes. Later, they shielded her from the intense pressures of fame.
How did Taylor Swift earn recognition?
Taylor Swift's self-titled debut album was released in 2006. The country-infused release included hits like Tim McGraw and Teardrops on My Guitar. The album peaked at number 13 on the Billboard Hot 100 list, was certified triple platinum by the RIAA, and received positive reviews from music critics.
However, it was the second album, 2008 Fearless that truly catapulted her to global stardom – songs like Love Story and You Belong with Me' resonated with audiences of all ages, earning her critical acclaim and a number of Grammy awards, including the Album of the Year.
Subsequently, Swift released a wide variety of albums: Speak Now (2010) showcased her song-writing skills; Red (2012) embraced a more pop-oriented sound; 1989 (2014) was very well-written pop album; Reputation (2017) dived into darker themes; Lover (2019) returned to her sweet-love-songs roots; Folklore and Evermore (2020) represented summer and winter seasons; finally Midnights (2022) gave off a more mysterious vibe.
Why is she re-recording her albums, and what is the 'Taylor's Version'?
In the early days of her career, Taylor Swift signed a record deal with Big Machine Records, a label owned by Scott Borchetta. The deal gave her limited control over her own music – the rights to master recordings of her first six albums, which are essentially the original versions of her songs, were owned by the Big Machine Records label.
As Swift grew as an artist, she wanted more control over her works. By re-recording her earlier works – described as 'Taylor's Version' – she regains control and ownership of her early catalogue and ensures not only her artistic independence but also that she benefits financially from her own work.
Within the 'Taylor's Version' albums are hidden treasures known as 'vault tracks' which are previously unreleased songs from the original recording sessions of the albums. Taylor decided to unveil these to offer her fans something they have not heard before.
She has already re-recorded Fearless, Red and Speak Now. The 'Taylor's Version' of 1989 was released on October 27, 2023 – and broke Swift's own record of the most-streamed album in a single day on Spotify.
What is Taylor's net worth?
Taylor Swift, the music industry's consistent high-earner, has seen her net worth skyrocket in recent years, thanks in large part to the incredible demand for tickets to her Eras Tour.
As of June 2023, Forbes estimated Swift's net wealth at an astounding $740 million. Taylor encompasses her recorded output, which includes her re-releases of the six albums she recorded under Big Machine Records and the lucrative Eras Tour.
The tour's tickets, which went on sale in late 2022, witnessed such overwhelming demand that Ticketmaster's servers crashed.
Swift has long been a fixture on lists such as "Highest Paid" and "Top Earning" in the music industry. In 2022, she secured the ninth spot on Forbes' list of the 10 Highest-Paid Entertainers, with an income of $92 million for that year. This sum accounted for her musical releases and the initial two months of Eras Tour ticket sales. With all 52 tour dates set for 2023, this year promises even greater financial success for Swift.
However, there is no exact information about her actual net worth; data varies between $730 and recently one billion according to different sources.
Who has Taylor dated?
Taylor Swift is known for her song-writing, and she has drawn inspiration from her past relationships. Few artists can capture the essence of love quite like her. The ability to craft heartfelt lyrics that resonate with listeners has been a hallmark of her career.
From the innocent infatuations of Taylor's early albums to the complex emotions explored in later works, Swift has become synonymous with love in its many forms.
While she hasn't publicly confirmed many of these relationships, Taylor Swift's fandom holds a list of her rumored ex-boyfriends and the songs inspired by them and their potential romances – allegedly, a relationship with Jake Gyllenhaal led to songs like We Are Never Ever Getting Back Together and All Too Well while Harry Styles inspired several songs, including Out of the Woods and Style.
Even though Taylor Swift's love life, like her music, has been the subject of intrigue, she is reluctant to publicly discuss her personal life, believing it to be 'a career weakness'.
However, rumors are spiralling – recently, the name 'Travis Kelce' has emerged prominently in the context of Taylor's relationships. In the past few months, social media has been abuzz with speculation about a romantic connection between Taylor Swift and footballer Travis Kelce playing for the Kansas City Chiefs.
However, there was no confirmation whether Taylor Swift and Travis Kelce were in a relationship.
How many followers does Taylor Swift have on social media?
Nowadays, social media is an easy way to share music, connect with fans and keep up with news. Swift, a global icon, has also amassed a legion of devoted followers across various digital platforms.
As of November 2023, Taylor Swift's account on Instagram (@taylorswift) is followed by 275 million people. On X (formerly Twitter) 94, 7 million individuals follow her @taylorswift13 account, and on Spotify, which is one of the most popular ways to access music, Taylor has 104, 974,854 listeners a month – also, songs like Cruel Summer, Blank Space and Anti-Hero have surpassed a billion streams each.
Taylor Swift's list of accomplishments also includes being the first woman – and only the third artist ever – to have four albums simultaneously in the Top 10 of the Billboard 200 chart. Re-recording her initial six albums allowed her to secure the position of the female artist with the most No. 1 albums in Billboard chart history, a title she took from Barbra Streisand.
Apparently, Taylor loves breaking records, and even though she debuted over 15 years ago, her song-writing abilities and stage charm keep audiences wanting more, which allows her to stay on top no matter how much trends change.