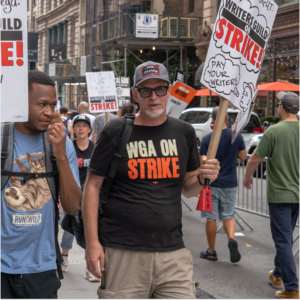 Is Hollywood saved now the writers' strike has ended?
Here are the things we need to know and expect
On May 2, the Writers Guild of America (WGA) went on strike as their Minimum Basic Agreement (MBA) expired, and negotiations with the Alliance of Motion Picture and Television Producers (AMPTP) were unsuccessful.
Once the strike started, numerous productions were put on hold and the sides negotiated a new MBA — a contract between the WGA and AMPTP, which covers the minimum wages and terms of employment for writers and is updated every three years.
The strike went on for 148 days and became the longest in WGA history, beating the 2007 record of the WGA which had lasted for 100 days.
Who was on the sides of negotiations?
11,500 writers associated with the Writers Guild of America accused film and TV studios of business practices slashing writers' compensation and undermining their working conditions. This included the popularisation of Artificial Intelligence (AI) in the workplace, emulating writers' work without offering them their deserved pay.
'The companies' behaviour has created a gig economy inside a union workforce,' the official statement from the WGA read. 'Their immovable stance in this negotiation has betrayed a commitment to further devaluing the profession of writing'.
The other side of the negotiations was the Alliance of Motion Picture and Television Producers (AMPTP), representing, amongst others, such media behemoths as Paramount Pictures, Universal Pictures, Warner Bros., Discovery, Netflix, and Waystar Royco.
AMPTP's statement described WGA's decision: 'a strike authorization vote has always been part of the WGA's plan, announced before the parties even exchanged proposals'.
What were the estimated losses for Hollywood?
Before the strike started, CNN reported that strikes of actors and writers had cost the industry over $6 billion. It quotes a New York state investment agency, according to which New York alone, eleven major productions were disrupted, resulting in 'a loss of $1.3 billion and 17,000 hires in the state'.
Nonetheless, it is difficult to estimate Hollywood's long-term losses as it emerges from the strike because most of them have not yet been incurred.
The strike meant many films were pushed from their given release date or postponed indefinitely. Take, for example, what could have been the most important film of this year – 'Dune: Part Two' – whose release was delayed from November 2023 to March 2024.
Classic Hollywood studios represented by AMPTP suffered decreases in their stock value; Disney stock dropped by 13% to $88.62 a share; Paramount saw a decrease of more than 30% to $15.96 a share; and Warner Bros. Discovery dropped nearly 7% to $12.40.
The stock of the streaming behemoth, Netflix, however, has risen by 36% to $441.91 a share since the strike began. Netflix seems to have weathered the storm well due to the sheer amount of content it can offer for its binge-viewing model.
It does not mean however that Netflix, as with other streaming services, will not suffer a drought due to the lack of new content and a depreciation in quality as no writers were engaged in creation. But that case has other factors to its evaluation, such as Netflix's subscription price hike.
What have writers secured in their new MBA?
On Wednesday, September 27, the WGA ended its 148-day strike with a new MBA with AMPTP.
The main takeaway has been an overall pay increase in comparison to the 2020 MBA: writers now receive a 5% minimum pay increase upon the ratification of the contract and 4% the following year. The plan of the current MBA results in a 3-year residual of $216,000 for projects, a 49% increase from $144,993 under the 2020 MBA.
There are also better terms of employment as pension and health funds have also increased, with a renewed $250,000 in annual funding for the Showrunner Training Program, which is created for senior-level writer-producers and new writers to obtain and refine skills needed to become successful showrunners in the contemporary landscape.
Writers who work on bigger projects made for streaming services that have a budget of $30 million or more will now receive an 18% pay bump and a further 26% increase in the base rate with which residual payments are calculated.
Moreover, with increased transparency on streaming data, writers now receive higher streaming residuals, along with a viewership-based streaming bonus.
Are these the best terms writers could have gotten?
This is not the best terms writers could have hoped for, as there are still concerns over exploitation and wages, which can vary between employers. However, in comparison to the 2020 MBA, and taking into account the regulation of AI, this is a huge step in the right direction.
What's the settlement on AI?
Artificial Intelligence was one of the main concerns for WGA, as its use cannot be outlined clearly now. That leaves a lot of room for studios to exploit AI to improve profits by devaluing and diminishing the profession of the writer.
The new MBA prohibits the use of writers' material to train AI, and the WGA reserved the right to assert that. AI also cannot be used to rewrite literary material, and AI-generated material will not be considered source material under the agreement – meaning that AI-generated material cannot be used to undermine a writer's credit.
Writers can choose to use AI when performing writing services, but it requires the company's consent and must follow applicable policies. The studio, however, cannot require the writer to use AI software (e.g. ChatGPT) when performing writing services.
Companies must also be clear if the writer is working with material generated with AI.
A full summary of the agreement can be found here
What are the future prospects?
Writers are now more secure in their jobs, with increased pay and less fear that AI will pose a threat to their livelihoods.
After all the developments, many teenagers who dream of putting their stories on the big screens began to wonder: is entering the writing industry a good choice?
The answer is unclear but promising. Whilst the writers' strike showcased the greed and exploitative nature of big studios, it also highlighted that positive change is possible.